Jackal Jacket - Olive
Durable and high performance soft shell outer layer for protection against wind and water in temperate conditions. Fast drying, two layer Shark Skin main material with DuPont™ Teflon® coating, provides adequate performance and keeps the proper breathability during high output activities. Jackal Jacket internal is lined with soft fleece and mesh for comfortable skin contact. The construction lacks bicep Velcro spots and other law enforcement / military distinctive marks, keeping the impression of simple outdoor apparel. Equipped with Quick Side Access™ solution, the Jackal Jacket provides easy grab of pistol and other duty belt mounted gear. This jacket was developed with undercover operations in mind.

Quick Side Access™ (QSA™) is a unique system that guarantees quick and comfortable access to all waist-mounted tactical accessories. Due to the ergonomic solutions applied in QSA™ system, you can reach for a gun, paralyzer or any other accessory in one smooth motion, which greatly increases your reaction time in emergency/life-threatening situations. Moreover, thanks to its civil appearances and adequate placement, Quick Side Access™ (QSA™) is perfectly suited for actions performed in urban surroundings.


Product Features:
• Stand-up collar lined with fleece
• Full front neck-to-waist two-way YKK® zipper with wind flap and chin guard
• Two bicep pockets
• Napoleon pocket with wiring eyelet
• Two internal chest pockets
• Two outer front pockets
• Quick Side Access™ system
• Reinforced elbows
• Adjustable hook-and-loop cuffs
• Elastic corded bottom with quick-locks for individual fit
• WooJin® buckles
• YKK® zippers
Helikon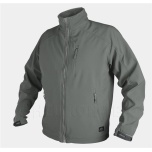 This lightweight soft shell layer is an everyday utility apparel for temperate weather. Fast drying, two layer Shark Skin main material with DuPont™ Teflon® coating, provides adequate performance and keeps the proper breathability during high output activities. At the same time the light fleece lining provides extra warmth. The Delta Jacket is a composition of a simple and casual design with athletic fit, which makes it suitable for a range of duties.
Product Features:
• Stand-up collar lined with fleece
• Full front neck-to-waist YKK® zipper with windflap and chin guard
• High performance / breathability ratio
• Napoleon pocket
• Internal pockets
• Outer front pockets
• Reinforced elbows
• Adjustable hook-and-loop cuffs
• Elastic corded bottom with quick-locks for individual fit
• YKK® zippers
Helikon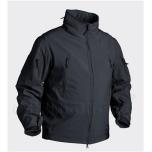 Gunfighter is a lightweight outer layer that provides maximum protection against wind, light rain and dirt thanks to a combination of Helikon-Tex® Windblocker membrane and DuPont™ Teflon® coating. Made to be used by LE/Mil units as operational apparel. The external layer stops wind, water and dirt while still getting the body moisture out. At the same time light fleece lining provides extra warmth. Foldable hood, stored in collar, can be easily adjusted through drawstrings in chest pockets and offers demanded head comfort in wet and windy conditions. Pockets setup stores essential equipment while allowing easy access in various body positions. Reinforced elbows allow freedom of movement during weapon operations. Biceps Velcro panels for ID purposes. The Gunfighter is a versatile and comfortable jacket for active duty in cold and temperate climate.
Features:
High performance / breathability ratio
Breathability: 8000g/m2/24h
Full front neck-to-waist two-way YKK® zipper with chin guard
Foldable, adjustable hood
Armpit ventilation zippers
ID Velcro panels on biceps
Bicep pockets with wiring eyelets
Internal chest pocket
Slide-through double zipper back pocket
Outer chest pockets with wiring eyelets, D-Rings and device slots
Left forearm pocket
Reinforced elbows
Adjustable hook-and-loop cuffs
Elastic corded bottom with quick-locks for individual fit
YKK® zippers
119,00 €