Headgear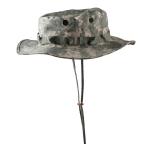 A military hat with a wide brim, designed in accordance with the U.S. Army ACU uniform specifications.
Made of Ripstop material, ensures breathability and comfort of wear in hot and temperate climate, in forest and desert areas. It also provides effective protection against sun and rain.
FEATURES:
-Breathable with four vent grommets
-Effective protection against sun and rain
-Adjustable chin strap
-Webbing camouflage band
SIZE CHART:

S - 7" (55cm)
M - 7 1/4" (57cm)
L - 7 1/2" (59cm)
XL - 73/4" (61cm)
MATERIAL: 60% Cotton, 40% Polyester
13,00 €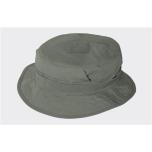 Military hat of characteristic design with narrow and adjustable brim, in British/Australian style. Circumference is adjustable to fit head size. Traditional metal vents were replaced with hidden mesh tunnels (at sides and in top), enhancing the air circulation. Sweatband enhances comfort and prevents sweat from accumulating on the forehead. Designed for mostly forest operations. Provides effective head camouflage.
FEATURES:
-Breathable – mesh tunnels
-Effective protection from sun and rain
-Elastic drawstring with a stop
-Elastic ribbon loops around the head circumference
-Chin strap with a stop
-Velcro ID panel
15,00 €