ACU Trousers - Camogrom
These trousers are manufactured in accordance with the specifications of the U.S. Army. By this simple maneuver, the product restricted for contract purposes is now accessible ad hoc. Years of experience of Army Combat Uniform designers delivered a well-considered construction design providing freedom of movement, crucial gear storage capacity and attractive, comfortable cut. ACU Pants meet the demands of everyday duty not only for Mil/LE operators but also for all outdoor people and army enthusiasts.
• Cord waist adjustment
• Strengthened seat and crotch
• Two front pockets
• Two back pockets with buttons
• Two thigh cargo pockets with buttoned flaps and drawstring retention
• Calf pockets with Velcro flaps
• Reinforced knees with kneepad compartments
• Adjustable cuffs
• Buttoned fly
Size chart Regular LongS 30/32 30/34M 32/32 32/34L 34/32 34/34XL 36/32 36/34XXL 38/32 38/34XXXL 40/32 40/34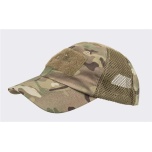 Adjustable baseball cap equipped with a set of soft Velcro panels for ID/morale patches and mesh for improved breathability. Intended for use in hot weather conditions. Mid-depth cut works with variety of LE/Mil headgear systems.
Velcro panels dimensions:
FRONT: 9 x 5 cm
TOP: 6 x 5,5 cm
REAR: 4,5 x 4 cm
ADJUSTMENT STRAP: 8 x 2,5 cm
Features:
• Breathable
• Lightweight
• ID Velcro panels
Helikon
16,00 €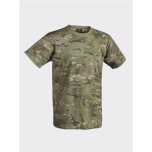 Basic layer of clothing. Durable and breathable knitted cotton fabric. Available in wide range of colors.

Product Features:
• Pleasant to the touch
Helikon
15,00 €