CPU Jacket - Legion Forest
EUROPEAN PATENT No. No 002234997-0001
CPU® (Combat Patrol Uniform®) shirt wasdesigned according to the latest construction of Polish Armed Forces uniform Pattern 2010. Zipped with full-front two-way zipper, provides easy access to duty belt gear. For heat management, armpit ventilation zippers are accessible even when load-bearing gear is on. A set of six combat-adapted pockets gives plenty of cargo space for crucial and ready-at-hand equipment. Fleece-lined stand-up collar keeps the neck of the user protected from the elements and abrasion caused by weapon slings. Bicep and chest Velcro allow wearing ID and other patches. CPU® is an adaptable uniform solution for everyday duty.
Product Features:
• Stand-up collar lined with fleece
• Full front neck-to-waist two-way zipper with flap
• ID Velcro panels on chest and biceps
• Armpit ventilation zippers
• Zipped bicep pockets
• Angled chest pockets with Velcro flaps and zippers
• Forearm pockets with Velcro flaps
• Lightstick slots
• Chest rank tag
• Reinforced elbows with internal elbow pad compartments
• Adjustable cuffs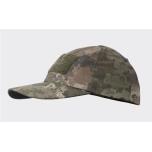 Adjustable baseball cap equipped with a set of soft Velcro panels for ID/morale patches and other items. Intended for use in hot weather conditions. Mid-depth cut works with variety of LE/Mil headgear systems.
Velcro panels dimensions:
FRONT: 7 x 4 cm
TOP: 6 x 5,5 cm
REAR: 4,5 x 4 cm
ADJUSTMENT STRAP: 8 x 2,5 cm
Product Features:
• Breathable
• Lightweight
• ID Velcro panels
Helikon
13,00 €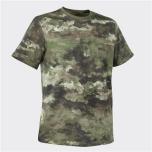 Basic layer of clothing. Durable and breathable knitted cotton fabric. Available in wide range of colors.

Product Features:
• Pleasant to the touch
Helikon
13,50 €