Magnum TAJGA 45 l - black
Taiga tactical backpack with a capacity of 45 liters, manufactured by Magnum. It was made of a durable polyester fabric in black color.

Taiga has two spacious pockets, opened on almost entire length which greatly facilitates packaging of equipment. First pocket has large compartment for hydration bag. Second one has carbiner for keys, organizer with tabs and mesh pocket for small accessories, writing utensils, documents and phone. In the lid is placed large, zippered compartment.

All main pockets have strong, two-way zippers with thick teeth and ergonomic, metal pull tabs.

On contoured back, straps and waist belt is located soft padding secured with nylon mesh. It provides adequate ventilation and increases comfort of use.

Comfortable shoulder straps have a vertical adjustment, the water bladder loops and vertical webbing for attaching additional pouches, flashlight, knife, etc. At the bottom is placed adjustable waist belt with composite buckle.

On the sides and bottom are six adjustable compression straps. In upper part of backpack is sturdy carrying handle and two brackets for connecting additional straps or pouches. Below, on the left side there is a hole for water bladder.

At front and sides of the backpack are sewn MOLLE/PALS compatible straps.

Material: polyester
Capacity: 45l
Dimensions: 50 x 30 x 17cm
Color: Black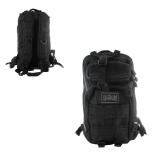 > 3 large Exterior zippered compartments
> adjustable padded shoulder straps are removable or it can be carried with any of the three carry handles.
> camelbag pocket
> numerous molle loops
Size: 25 l
Material: 100% Polyester
45,00 €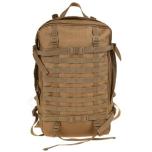 Taiga tactical backpack with a capacity of 45 liters, manufactured by Magnum. It was made of a durable polyester fabric in coyote color.

Taiga has two spacious pockets, opened on almost entire length which greatly facilitates packaging of equipment. First pocket has large compartment for hydration bag. Second one has carbiner for keys, organizer with tabs and mesh pocket for small accessories, writing utensils, documents and phone. In the lid is placed large, zippered compartment.

All main pockets have strong, two-way zippers with thick teeth and ergonomic, metal pull tabs.

On contoured back, straps and waist belt is located soft padding secured with nylon mesh. It provides adequate ventilation and increases comfort of use.

Comfortable shoulder straps have a vertical adjustment, the water bladder loops and vertical webbing for attaching additional pouches, flashlight, knife, etc. At the bottom is placed adjustable waist belt with composite buckle.

On the sides and bottom are six adjustable compression straps. In upper part of backpack is sturdy carrying handle and two brackets for connecting additional straps or pouches. Below, on the left side there is a hole for water bladder.

At front and sides of the backpack are sewn MOLLE/PALS compatible straps.

Material: polyester
Capacity: 45l
Dimensions: 50 x 30 x 17cm
Color: Coyote
60,00 €
Magnum Bison ia a medium-sized transport backpack, equipped with MOLLE straps for attachment additional pocketsand pouches. Backpack has roomy main compartment, where at the back wall there is a zippered pocket. The carriersystem is based on a comfortable, adjustable shoulder straps and hip belt.
Product Features:
Made of polyester
MOLLE straps on the front and both sides

Profiled

back

of the

ventilation

system

Reinforced structure

Zippers

with large

pullers

Compression straps

Adjustable waist belt

Hydration

system compatible

Capacity: 65 l. (approx.)
Size: 58x30x25 cm
Manufacturer: Magnum
99,00 €