UTL Trousers - Olive Drab
Main bottom apparel from Urban Tactical Line®. Keeping the impression of casual pants, the UTP® provide load bearing capabilities and comfort typical for strictly utilitarian constructions. Designed for Law Enforcement operators, Urban Tactical Pants® enable carrying all essential equipment around hips and thighs line. Low-profile pocket setup keeps the EDC gear and ammo close to body's center of gravity, which, combined with stretchable fabric, leads to fluent and quick tactical movements. Furthermore, all these solutions give the outcome of clear and useful product for concealed carry tasks. UTP® are available in two raw material options, for hot and moderate climate as well.
Product Features:
• Elastic waist with Velcro fastener for additional adjustment
• Key loops, D-ring or karabiner compatible
• Two front pockets with strengthened edges for gear clips
• Two wide back pockets with easy access. Adapted for dump mag use
• Two composed slim back pockets for folding knives, flashlights, pistol magazines. Seam-adjustable
• Two angled, internal waistband pockets for concealing mags, batons. Seam-adjustable.
• Two thigh cargo pockets zippered with YKK® reverse zipper intended to carry documents and small personal belongings
• Two Velcro flapped thigh pockets for Smartphone device or AR magazines
• Classic jeans 'neck' shape limits falling the trousers down
• The leg in the rear part is profiled - it is divided and connected with profiling pleat under the knee
• Reinforced knees with internal kneepad compartments
• Cuffs with cord channels
• YKK® zippered fly
Size Chart
     Regular  Long   
S    30/32	30/34
M    32/32	32/34
L    34/32	34/34
XL  36/32	36/34
XXL 38/32	38/34
3XL 40/32	40/34

Helikon
Video
Our easy-to-use neoprene protective pads are made of 6mm thick neoprene. In order for them to work you just need to put them into your knee or elbow pad compartments. Ideal for shooting range, climbing, hiking or other tactical use. Ready to use with UTP®.
Product Features:
• Made of 6mm neoprene with one side nylon backing
• Can be used as knee or elbow protectors
• After trimming fits in: SFU™, SFU NEXT, CPU®, TCU™, ACU, USM
Helikon
15,00 €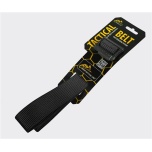 Urban Tactical Belt is a simple and functional pants holding tool. Lightweight, non-metallic construction makes it as a perfect solution for both Military and LE use. Moreover, the user can keep it on while passing trough airport security. The Urban Tactical Belt combines durable nylon webbing and reinforced polymer buckle so it can be successfully used as tie strap in emergency situation. Easily adjustable (no holes), designed for everyday use.
Product Features:
• Width: 4,5 cm
• Easy Blocking System™ Buckle
Size chart:
M (120cm)
L (130 cm)
XL (140 cm)
17,00 €