Box: Polystyrol
Dimensions: 110 x 70 x 25 mm

Plastic box can be opened up for small change, cigarettes, etc.
Miltec
7,00 €
Polyvinylchloride
Dimensions: 130 x 200mm

- waterproof by safety roller fastener with hook and loop closure
- water and dirt safety for e.g. passport, I.D., maps, etc.
Mil-Tec
4,50 €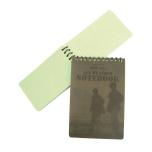 Dimensions: 75 x 130 mm
- 48 sheets
- pages have a waterproof coating with that you can also write while it is raining without covers the writing
Mil-Tec
8,00 €