FOLD-A-CUP® - Olive 600 ml
100% TPR (Thermoplastic Rubber)

Dimensions: 11,9 x 10,5 x 3,9 cm
Total volume: 600 ml
Weight: 46 g

Wildo® Fold-A-Cup®
Smart, chic and of high quality.
Product made of high quality and BPA-free plastic, manufactured environmentally friendly.
Made in Sweden.

Big fold cup with a total volume of 600ml, which is perfect suitable for meals or to drink.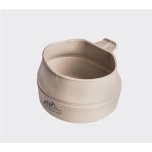 It started with an idea for the perfect product. Now, more than 35 years later The Original Fold-A-Cup® is a classic, found all around the world. Made to go where ever you go. The Fold-A-Cup® pops open from it´s folded position to form a cup or bowl. The Fold-A-Cup® can hold up to 250 ml but is just 2,5cm when folded. The fold ensures that it won't drip after emptied. The Fold-A-Cup® has been classified as a work of art by Svensk Form Copyright Panel.
The Fold-a-cup is BPA-free.
Produced by Swedish company Wildo®.

Product Features:
• Capacity: 250 ml
• Dimensions when unfolded: 9,4 x 7,2 x 5,0 cm
• Dimensions when folded: 9,4 x 7,2 x 2,5 cm
• Weight: 25 g
• Resistant to hot water, cold and crushing
• BPA-free
• Made in Sweden (patent for the Swedish army)
3,00 €
The need in nature may differ from day to day, person to person. But the knowledge that you are always well equipped remains. Proven under Swedish conditions for decades, Wildo®'s Camp-A-Box® is the Original that can be trusted.
Fully equipped. Includes a plate with lid, Fold-A-Cup® Big, Fold-A-Cup®, Cuttingboard, Shaker and Spork.
The Camp-A-Box® Complete is BPA-Free.
Produced by Swedish company Wildo®.
CAMP-A-BOX® Features:
Plate with lid weight: 115 g
Size: 19 x 13 x 5 cm
Material: PP
FOLD-A-CUP® Features:
Weight: 25 g
Capacity: 250 ml
Dimensions when unfolded: 9,4 x 7,2 x 5,0 cm
Dimensions when folded: 9,4 x 7,2 x 2,5 cm
Material: TPE
FOLD-A-CUP® BIG Features:
Weight: 46 g
Capacity: 600 ml
Dimensions when unfolded: 12,0 x 10,5 x 7,8 cm
Dimensions when folded: 12,0 x 10,5 x 3,9 cm
Material: TPE
WILDO® SPORK Features:
Weight: 8,5 g
Size: 16,5 x 4,8 x 1,5 cm
Material: PA6
WILDO® SHAKER Features:
3 chambers for different spices
Weight: 18g
Size: 5,9 x 4,5 cm
Material: PP
22,00 €