FOLD-A-CUP® - TPE - Khaki 250ml
It started with an idea for the perfect product. Now, more than 35 years later The Original Fold-A-Cup® is a classic, found all around the world. Made to go where ever you go. The Fold-A-Cup® pops open from it´s folded position to form a cup or bowl. The Fold-A-Cup® can hold up to 250 ml but is just 2,5cm when folded. The fold ensures that it won't drip after emptied. The Fold-A-Cup® has been classified as a work of art by Svensk Form Copyright Panel.
The Fold-a-cup is BPA-free.
Produced by Swedish company Wildo®.

Product Features:
• Capacity: 250 ml
• Dimensions when unfolded: 9,4 x 7,2 x 5,0 cm
• Dimensions when folded: 9,4 x 7,2 x 2,5 cm
• Weight: 25 g
• Resistant to hot water, cold and crushing
• BPA-free
• Made in Sweden (patent for the Swedish army)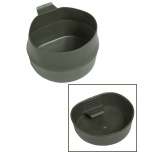 100% TPR (Thermoplastic Rubber)

Dimensions: 11,9 x 10,5 x 3,9 cm
Total volume: 600 ml
Weight: 46 g

Wildo® Fold-A-Cup®
Smart, chic and of high quality.
Product made of high quality and BPA-free plastic, manufactured environmentally friendly.
Made in Sweden.

Big fold cup with a total volume of 600ml, which is perfect suitable for meals or to drink.
5,50 €
The need in nature may differ from day to day, person to person. But the knowledge that you are always well equipped remains. Proven under Swedish conditions for decades, Wildo®'s Camp-A-Box® is the Original that can be trusted.
Fully equipped. Includes a plate with lid, Fold-A-Cup® Big, Fold-A-Cup®, Cuttingboard, Shaker and Spork.
The Camp-A-Box® Complete is BPA-Free.
Produced by Swedish company Wildo®.
CAMP-A-BOX® Features:
Plate with lid weight: 115 g
Size: 19 x 13 x 5 cm
Material: PP
FOLD-A-CUP® Features:
Weight: 25 g
Capacity: 250 ml
Dimensions when unfolded: 9,4 x 7,2 x 5,0 cm
Dimensions when folded: 9,4 x 7,2 x 2,5 cm
Material: TPE
FOLD-A-CUP® BIG Features:
Weight: 46 g
Capacity: 600 ml
Dimensions when unfolded: 12,0 x 10,5 x 7,8 cm
Dimensions when folded: 12,0 x 10,5 x 3,9 cm
Material: TPE
WILDO® SPORK Features:
Weight: 8,5 g
Size: 16,5 x 4,8 x 1,5 cm
Material: PA6
WILDO® SHAKER Features:
3 chambers for different spices
Weight: 18g
Size: 5,9 x 4,5 cm
Material: PP
22,00 €